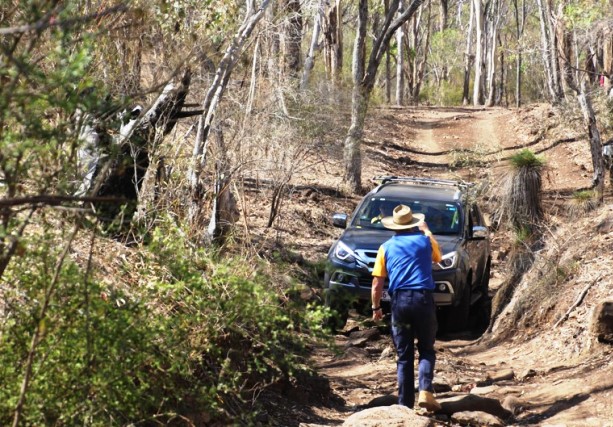 TRAINING
The Twin Rivers 4X4 Club has been conducting Accredited Driver Training courses for its members since 2005. As our club is a not for profit organization our driver training courses represent excellent value for money but most importantly, instruct owners of 4WD vehicles in the skills required to safely pilot their vehicle both on and off the road.
The Trainers and Assessors are accredited under the guidelines set by the 4WDQLDTraining.
Units of competency offered:-
4WD Course:-          RIIVEH305F Operate and Maintain a 4WD vehicle
Advanced Course:- FWPCOT3329 Perform Complex 4×4 Operations
                                   FWPCOT3326 Recover 4WD vehicle
As a minimum the main driver from each membership must complete the 4WD course within 6 months of joining "Twin Rivers 4X4 Club" unless specific approval is granted by the Training Coordinator and the Management Committee
4WD Training Course Introduction
The course is competency based. There are theory sessions as well as driving sessions, which include written and practical tests. It is not designed to teach experience, which comes only after many years of actually driving in conditions that your vehicle is designed for.
The course will teach you the basic principles of Safety, Trip Preparation, Vehicle Maintenance and Servicing, along with knowledge of the fundamentals of a 4WD and the vehicles capabilities as well as basic driving techniques and recovery procedures.
Each course is broken up into theory and practical components designed to educate the most experienced member. Courses includes 1 day of theory to familiarise participants with 4WD vehicles, discuss how they work and how to inspect them for basic faults. Theory components cover many aspects of driving. Some of these subjects include:
Vehicle types and capabilities
How a 4WD works
Tyre selection, inflation and use
Pre-trip and during trip vehicle equipment and safety inspections
Environmental Awareness
Different techniques for driving in varying terrains
The practical component consists of a full weekend where participants have the opportunity to learn and experience all of the different aspects of basic 4WDing in the field. Some of the topics covered on the weekend training include:
Principles of 4WDriving
Stop stall key start recoveries
Driving up and down moderate inclines
Driving techniques for different terrains
Approach, departure and ramp over angles
Driving on side slopes
Driving through water
Changing a tyre in uneven terrain
Snatch strap recoveries
Driving to cause minimal environmental impact
Using Convoy Procedure
The 4WD Course must be completed prior to undertaking the Advanced Course
For more information about any courses please contact the clubs Driver Trainer