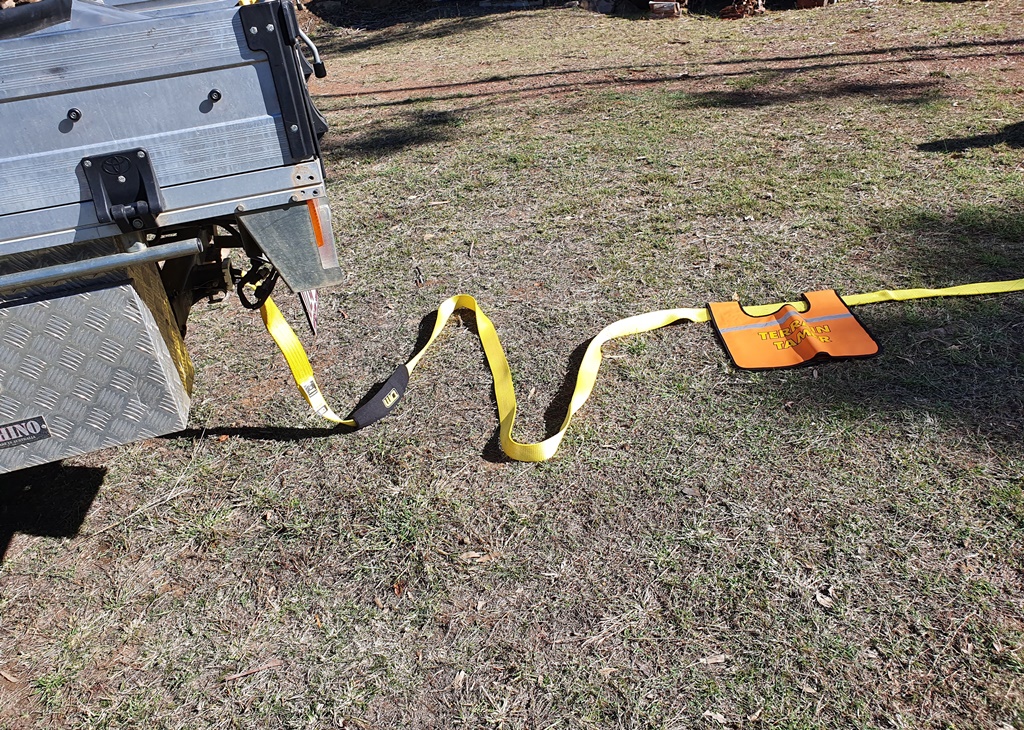 SNATCH STRAP SAFETY
Seven Rules for Snatch Strap Recoveries
1. NEVER use a tow ball as an attachment point.
2. ALWAYS use rated recovery points. Ensure you know BEFORE you go off road.
3. ALWAYS use a cable dampener on the strap.
4. ALWAYS ensure everybody except the driver is out of the vehicle and at a safe distance.
5. ALWAYS, where possible, use an equaliser strap.
6. NEVER use a bigger run-up. A two metre wide 'Z' shaped run-up is all that is required. If the first pull doesn't work, re-set and repeat with a little more power and effort from the tow vehicle. 
7. NEVER step over a live strap ie. connected at both ends.
Setting Up a Snatch Strap Recovery
Place 2 metre Z bend nearest to recovery vehicle:- Allows driver of recovered vehicle to see strap taking up. Minimises strap dragging across ground.
Hierarchy or Order of Recovery
1) Try reversing, then select a different line;
– aim to get all wheels on the ground with equal weight on opposite wheels if possible. Otherwise drive will go to the wheels with least resistance and spin.
2) Engage traction aids if available, e.g.;
– traction control (uses ABS to apply brake to spinning wheels) NB Traction control is not useful on sand,
– cross axle diff lockers, with caution.
If on side slope, a rear locker may cause the rear of the vehicle to slide downhill.
Front lockers put more stress on CVs and diffs, so keep wheels straight and proceed slowly.
3) Adjust tyre pressures
– e.g. typically 60% of road pressure if in sand or mud. Can go lower than this but there are risks.
Risks if driving at reduced tyre pressures:
tyre rolling off the rim, or breaking the bead and deflating,
overheat the tyre if driving at high speed,
cornering and braking compromised.
4) Track adjustment e.g. building, digging as necessary;
– remove anything which causes extra recovery force (e.g. a build-up of sand or mud in front of wheels, diffs
resting on sand or mud)
– reduce height of step up by e.g. rocks or logs.
5) Traction ramps (e.g. Maxtrax or TREDs) NB Don't spin the wheels or the traction ramps will be damaged.
6) Low force tow/gentle snatch recovery – Only experience will guide you as to degree of force required.
7) Winch
8) Snatch recovery If no winch available.
All options work better and are far safer if guided by prior training. Take advantage of all training opportunities including official club training.